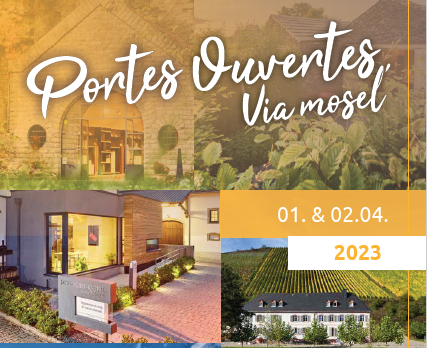 VIA MOSEL' is pleased to invite locals and guests to the third big wine architecture weekend .
Along the German-Luxembourgish-French Moselle, the Via mosel' wineries and wine villages have opened their doors and gates to wine and architecture lovers alike. In addition to wine tastings, a diverse wine-architectural supporting program will await you: exciting tours of the building, talks with architects, exhibitions, quizzes, stories from clients, workshops… In this way, you can find out more about how wine lives in unusual architecture.
A total of 50 destinations from Toul to Winningen show the Moselle valley from a new perspective. Whether you want a discussion with architects, an exclusive guided tour through the historic center of a wine village with wine tasting or an enjoyable wine tour in a new stylish production hall of an organic winery: Only on the Moselle is it possible to experience such activities in two days and in three countries . In the evening, visitors can reflect on the events in the guest rooms of the wineries over a glass of wine or crémant.
All the information needed to plan a visit to the Portes Ouvertes can be found at www.viamosel-events.com.
Many program points can be reached by public transport. In Luxembourg, public transport can be used free of charge throughout the country. It is also possible to travel the Via mosel' with a mobile home, as the Mosel(le) has many parking spaces, some directly at the winegrower's.
Since some events have a maximum number of participants, visitors are asked to register in advance for the selected program items.